The Best Ways to Get Around St. Augustine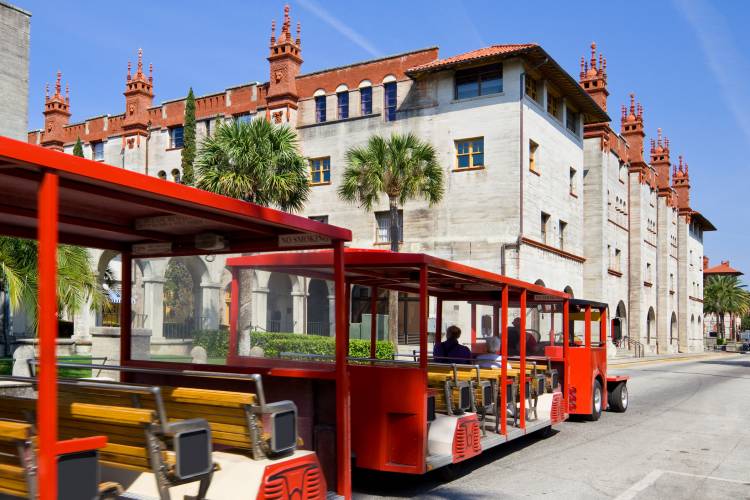 From the iconic Old Town Trolley to renting a scooter or golf cart, there are plenty of ways for you to get around St. Augustine in style! Enjoy learning the history of St. Augustine as you ride in the back of a horse-drawn carriage or rent a bicycle to pedal around town. No matter your means of getting around, St. Augustine is the perfect place to explore!  
Old Town Trolley 
Grab a ticket to hop on and off the Old Town Trolley! With 22 stops at museums, historic sites, restaurants, and more, there is no better way to truly see and experience Old Town St. Augustine! You can purchase either a 1- or 2-day ticket allowing unlimited hops on and off the Trolley. As you sit on the open-air trolley, listen to live tour narration that will give you even more insight into the history and culture of the area. Plus, when you buy a ticket for the trolley, you receive free admission to the St. Augustine History Museum. 
St. Augustine Pedi Cabs 
Another perfect way to explore downtown St. Augustine is by sitting in the back of a pedi-cab! You can call a local service like Pineapple Ride & Tours to get a ride to a destination like a restaurant or just enjoy a scenic ride and tour! Call their booking number for a ride or wave them down when you are exploring the downtown area! 
St. Augustine Carriages
What better way to experience America's oldest city than riding in a horse drawn carriage! Feel like you have traveled back in time when you experience the historic streets while listening to stories from knowledgeable guides. You can even opt for a haunted carriage tour has you experiencing the haunted side of St. Augustine! A carriage ride is a romantic way to see the city! 
Rent a Bike, Scooter, or Golf Cart 
Be your own tour guide around St. Augustine when you rent a bicycle, scooter, or golf cart! If you rent a golf cart, the whole family can hop aboard and travel around St. Augustine. Or form a line of bicycles as you bike to the beach or attractions like the Lightner Museum! A scooter rental can be a ride for 2 around town! Scooter drivers must have a driver's license and be over 18 while golf cart drivers have to be 21 years or older with a valid driver's license as well.  
Walking Tours 
Of course you can always get around St. Augustine on your own two feet! Whether you explore on your own or take part in a St. Augustine Historic Walking Tour, you're sure to enjoy exploring the historic charm of St. Augustine. Choose between the famous Conquistatour of St. Augustine, a 90-minute tour that goes past all of the historic sites or opt for the Historic Pub Crawl to enjoy historic tales and adult beverages. For a spooky evening, enjoy the Spirits w Spirits which is their iconic Paranormal Pub Crawl.  
Book a St. Augustine Vacation Rental 
No matter your transportation of choice, after a day of exploring you will want to find peace and relaxation in a St. Augustine vacation rental! With a Windjammer rental, enjoy access to community amenities like a pool, tennis courts, fishing dock, and a private boardwalk to Crescent Beach. Book your St. Augustine vacation rental today!